SPA CROFT MODELS
Beautiful Models for the Discerning Collector
Est. 1984 (Including Brock Miniatures)
98, High Street, TIBSHELF, Derbyshire, DE55 5NU, England.
Tel/Fax 01773 872780 e-mail spacroft@aol.com
Spa Croft Models is a small company which specialises in the manufacture of 1/43rd scale white metal models of British cars from the 1930s to the 1960s, and together with our retail arm, we have been supplying high quality models of mainly British and American cars to the model collector for the past twenty three years.
The company is run by Mike Coupe who has been an enthusiastic collector of model cars for longer than he cares to remember. Both Spa Croft Models, and Brock Miniatures, the retail outlet for the products of other white metal manufacturers, are the natural progression of Mike's lifelong hobby.
Our business really began in 1983 when we launched the fondly remembered Hardstoft Swapmeet at the Shoulder of Mutton Inn in the small hamlet of Hardstoft about seven miles south of Chesterfield in Derbyshire. Alternating with the nearby, then major, swapmeet of Nottingham International, it was held once every two months on a Tuesday evening. A feature of the swapmeet was a draw where the customer whose entry ticket was drawn at the end of the swapmeet, would receive a £5.00 voucher to be spent on the night at any of the stalls present. Needless to say, all dealers present waited with eager anticipation to see if their takings would be boosted by another fiver. As a comparison with today's toy fairs, the numbers of tables was between 30 and 50 at a cost of £5.00 per table. The Swapmeet had a five year run, and then the pub closed !!!!
The retail business was established in 1984 and was gradually built up over the next ten years or so, based solely on mail order and toy fair appearances. In 1995, an idea which had its beginnings a few years earlier, came to fruition, and Spa Croft Models was born with the release of our first model, the Series II Morris Isis, at ModeleX of that year. Since then, Spa Croft Models has steadily built up a loyal following of collectors and we like to think that our products are mentioned in the same breath as other more famous brands of hand built models.
Spa Croft Models are meticulously finished, and much research is carried out to ensure accuracy. Each model is produced in two colour schemes with a total run of only 400 pieces. In addition, an extra 100 models are reserved for finishing to customer specification, principally, colour scheme and number plate. The majority of Spa Croft Models have been mastered by Peter Kenna, one of the UK's most sought after pattern makers, and more currently, Ian Pickering, again a well known craftsman in this field, having produced the pattern for many Pathfinder Models, is creating superb masters for Spa Croft Models. There are now 10 models in the range, the most recent being the Humber Super Snipe Mk.IV. The eleventh model, the Wolseley 25 saloon is being mastered at the moment.
All Spa Croft Models are still available, although not necessarily in stock, so you may have to wait a while until your own choice of model can be supplied
---
MORRIS 14/6 Series III
AWARDED THE CLASSIC & SPORTS CAR TROPHY FOR THE BEST MODEL IN SHOW AT MODELEX 2003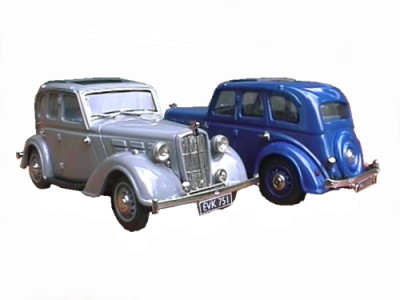 Click on image for more photos.
The first production run of the Morris 14/6 Series III is now sold out, but It is hoped that production of the next batch will commence before the end of 2006. Colours are pale grey blue and royal blue as shown above, plus an all black version in the Le Car Noir range.
There is far more detail on the Morris than you would find on a model of a comparable price. To keep the costs down the assembly is carried out in-house. Details include door handles outside.... and in, window winders, cast wipers, foot controls (hard to see, but they are there), rear view mirror mounted on a finely detailed dash board, clear headlamps, and spot lamp, nice under chassis detail, and more. If you wish to purchase a model of the Morris 14/6 please email me, or give me a call on (Int. Code) 01773 872780
Click on either photograph to view more pictures
The first batch of the Vauxhall 25 GL Limousine has also sold out. Production of further models has commenced somewhat belatedly, as a result of late delivery of the painted castings, and assembly of the Humber Super Snipe . Because of the amount of detail on the model, it is taking quite a time to build them. Its a big model, but then it is a long wheel base limousine. Again, the detailing has to be seen to be believed, and the separate roof panel can be removed to see all the interior detail; driver partition, intercom, occasional seats, door handles and winders, separate chromed bonnet flutes and side slats, big chromed headlamps with clear "glazing", and more. You can reserve your Vauxhall 25, by emailing or phoning me. Colours are black with maroon as above, and black with pale grey blue as the example in the Vauxhall Heritage Centre. Due to popular demand we are also producing a smaller run of an all black version. This run will not exceed 50 models. These black models will be the first to appear in a sub-range of Spa Croft Models which are painted all over black. This is to meet collector demand for all-black models. As with the Vauxhall, none of these black models will exceed 50 in number. In order to give them a separate identity from the standard Spa Croft range, they will be known as Le Car Noir range.
Production of the first batch of Humber Super Snipes is now complete, and a further run is currently underway with models already being delivered. Have you received yours yet? If not please let me know.
The pre-war Morris 14hp Series II and the Standard Vanguard Sporstman are still being considered for inclusion in the Spa Croft collection, but they have taken second place momentarily whilst we concentrate on other subjects. Keep logging on to this site for further updates.