NEWBANK MODELS
Produced with Precision and Pride
---
Newbank Models is a new range of 1/43rd scale handbuilt white metal models of American Automobiles, principally Hudson in the Memorial Series, although models of other American cars will be also be produced.
The Memorial Series are produced in memory of Ann Newton-Banks the late wife of the man behind Newbank Models, and Hudson fanatic, Tony Banks.
The first models to appear are the 1938 Hudson 8 Coupé Victoria, 1938 Hudson Convertible, and the Hudson 112 Convertible in the guise of the 1938 Indianapolis 500 Pace Car.
Spa Croft Models are the sole UK agents for Newbank Models.
Please note that due to a change in marketing policy, the price of all Newbank Models has been reduced, and I am now able to offer these models at a retail price of £89.00. This is because the trade price has been significantly reduced. I would apologise to all collectors who have bought these models at the original price, but this price was dictated by the price at which I bought them in.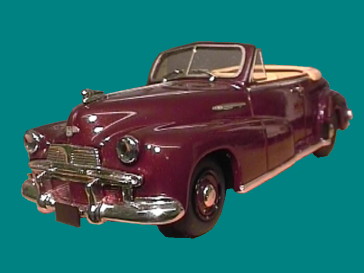 1942 Oldsmobile B44 Convertible
1938 Hudson 8 Coupé 5 Passenger Victoria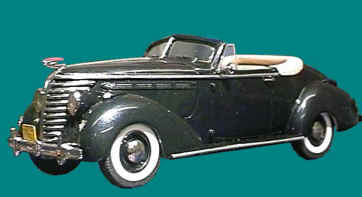 1938 Hudson 8 Convertible
Model can be displayed with rag top up, or in open position.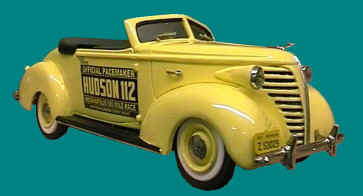 1938 Hudson 112 Convertible Indianapolis 500 Pace Car.
1938 Hudson 112 Convertible
Price of all Newbank Models is now £89
The Newbank Models 1942 Oldsmobile B44 is now available and pictutres will appear shortly.
Spa Croft Models are the sole distributors of Newbank Models in the UK